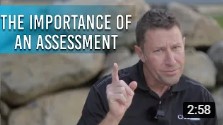 12 Jan

The Importance of an Assessment

Welcome to Care to Stay Home's new "Frequently Asked Questions" YouTube series, with Rob Fraser

In this new series, Care to Stay Home CEO, Rob Fraser, will answer his most frequently asked questions that he has come across over his 12 years as CEO of Care to Stay Home. 

With over 25 years of experience, training, educating, and caring for people around the country, Rob has a unique perspective on how to provide people with proper quality care. With his well rounded experience, Rob will be answering a series of questions to help give people a better understanding about how to provide the best quality care for a loved one and other questions surrounding the home care industry.

Every Wednesday we will be releasing a new video from Rob's "Frequently Asked Questions" YouTube series, and if you'd like to learn more, please visit the Care to Stay Home YouTube Channel to see the complete library of videos.