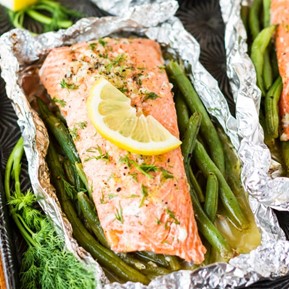 25 Nov

Lemony garlic butter grilled salmon in foil packets

Yields 4 servings:

This simple grilled salmon in foil recipe is packed with lemony garlic butter flavor! Adding green beans to the packet means you have a healthy protein and side dish on the table in under 30 minutes…

PREP TIME10 minutes COOK TIME14 minutes TOTAL TIME24 minutes

ingredients
4 (6-oz.) Alaska salmon fillets
1-lb. fresh green beans, ends trimmed
2 teaspoons extra virgin olive oil
3 tablespoons butter or ghee, melted*
2 tablespoons fresh lemon juice
zest of 1 lemon
2 cloves garlic, minced
1/2 teaspoon salt
1/4 teaspoon black pepper
chopped fresh dill to taste, optional
instructions
Cut four pieces of heavy-duty aluminum foil into 14-inch lengths.
Toss green beans with 2 teaspoons olive oil and season with salt and pepper to taste. Divide into four portions and layer in center of each piece of foil. Place a salmon fillet on top of each pile of green beans.
In a small bowl, add melted butter, lemon juice, lemon zest, garlic, salt, and pepper. Whisk everything together and pour over each piece of salmon. Pull the foil edges together and scrunch them up to seal each packet.
To grill these packets: Preheat the grill to medium-low heat and place the packets directly on the grill. Close the grill cover and cook for 13-16 minutes (or until the salmon is cooked through and flakes easily), making sure to rotate the packets 1/2 turn about 7 minutes into the cooking time.
To bake these packets: Place side by side on a baking sheet and bake in an oven preheated to 400 degrees until salmon has cooked through and flakes easily, about 20-25 minutes.
Carefully unwrap each packet before serving. Season with additional salt and pepper to taste. Sprinkle with chopped fresh dill, if desired, and garnish with lemon wedges.
notes
*Use melted ghee to make this recipe Whole30-compliant!
nutrition information:
SERVING SIZE:
1 foil packet
Amount Per Serving: CALORIES: 378TOTAL FAT: 18.5gSATURATED FAT: 6.9gTRANS FAT: 0gUNSATURATED FAT: 0gCHOLESTEROL: 137.2mgSODIUM: 417.8mgCARBOHYDRATES: 6.9gFIBER: 3.3gSUGAR: 1.5gPROTEIN: 45.1g